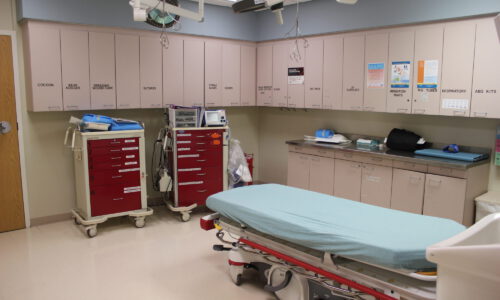 Hillsdale Hospital maintains a full service Emergency Room (ER) and provides care to all patients who present for evaluation and treatment, regardless of age, complaint, or ability to pay. Services provided include care across the continuum, from the severely ill or injured, to those with minor problems.
Specially trained ER staff and resources are available 24 hours a day / seven days a week to evaluate and treat all patients. The nursing and medical staff at Hillsdale Hospital understands that it is an anxious time when you or someone you love is ill or injured. They will make every effort to relieve your anxiety and you can take comfort in knowing you are receiving care from skilled, experienced healthcare professionals.
If you come to the ER by ambulance, you will be taken immediately to an examination room. If you do not arrive by ambulance, a triage nurse will assess your condition. You will be asked several questions that may seem routine, but are important in helping us determine the urgency of your illness or injury. Our goal is to ensure all patients receive appropriate treatment in a timely manner.
Sexual Assault Nurse Examiners (SANE Program)
Sexual assault knows no boundaries. Assaults occur between people of all races, ages and gender. It can happen to anyone, anywhere, anytime. Sexual assault has nothing to do with sex or love. It is a crime of violence, power and control. No one deserves to be assaulted – ever.
Hillsdale Hospital offers evidence collection by nurses trained in the science of forensics. Forensic Nurse Examiners are experienced nurses trained to collect evidence. They have undergone extensive training to ensure that evidence is properly collected, documented and preserved. They are sometimes referred to as SANE nurses or Sexual Assault Nurse Examiner.
Forensic nurses are on call 24 hours a day to respond to the needs of our community.