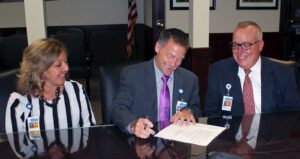 HILLSDALE, Mich.—Hillsdale Hospital is expanding its offering of quality services through the new University of South Florida College of Nursing Pain Management Fellowship Program. Hillsdale Hospital's Andy Beigner, certified registered nurse anesthetist (CRNA) and fellow of the American Academy of Pain Management, will supervise the fellowship, which allows for additional days and hours of service to be offered to the local community.
"We seek to improve our patients' quality of life through minimally invasive techniques," Beigner said. "We want our patients to return to their everyday lives free of the chronic pain that may have become their normal in the previous months or even years."
Patients are referred to Hillsdale Hospital's Pain Management Clinic through their primary care provider. During the initial appointment, a patient's pain is assessed and a personal, multidisciplinary care plan is designed. Through the new fellowship, Beigner will mentor and guide CRNAs advancing their education in the area of pain management.
"The new relationship with the University of South Florida brings additional care team members to our local community under the supervision of Andy Beigner," said Jeremiah Hodshire, VP and chief operating officer. "With the Pain Management Clinic located inside Hillsdale Hospital, patients can access high quality care locally."
The Pain Management Clinic will be able to see patients three days per week as a result of the fellowship. Prior to the Fellowship with the University of South Florida, patients could only be seen two days per week and usually within four weeks of their initial referral.
"Additional providers allow us to elevate the quality of care, including specialty pain management, and expand our hours to serve patients when they need it most," Hodshire said.
To secure an appointment or ask questions, interested patients can call the Pain Management Clinic coordinator at (517) 437-5419.