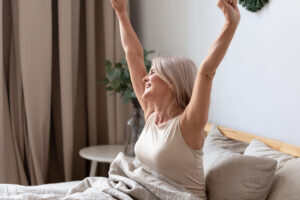 Many people are probably familiar with some version of the American folksong Dem Bones: "Your knee bone connected to your thigh bone/Your thigh bone connected to your hip bone/Your hip bone connected to your back bone."
Hillsdale Hospital's Sleep Center sleep technician Carol Johnson used the lyrics of the song to bring up an important point about her job: "Remember that song? That's what I think of when I talk about sleep and overall health: It's all connected.
"Your breathing is connected to your oxygen, your oxygen is carried by your blood, your blood goes everywhere in your body — people are becoming much more aware of how it affects the body if you're not getting good sleep."
Dem Bones was first recorded in 1928. Today, healthcare providers are helping their patients recognize that the known connection between sleep and health has also been around for a long time.
"I see a lot more people today in the thirty- to fifty-year-old range than I did when I started [in sleep medicine] 13 years ago," said Johnson, who has worked at the Sleep Center for the past five years. "I think a big reason for that is that doctors are becoming more aware of how sleep affects you."
"According to current research, 10 to 15% of middle-aged people experience obstructive sleep apnea, but only a small percentage of that group realizes that there's more to be concerned about than just not sleeping as well as they used to," said Dr. Gregg Patten, medical director for the Sleep Center.
"It's important that people understand that if they are treated for significant obstructive sleep apnea, their blood pressure is easier to control, it reduces their risk for stroke and heart attack," explained Dr. Patten, a pulmonologist with thirty years of sleep study experience. "Treatment also helps you feel better and have more energy."
Sleep Center patient Steve Iles can definitely attest to that.
"I feel so much better having done it, and wish I'd done it years earlier," said Iles, who was referred for sleep apnea testing by his primary care physician. "I had let my health get to a very bad place before finally getting treated. After they plugged me into the machine at the Sleep Lab — that was the first time in years that I'd slept for more than an hour at a stretch."
"The experience was phenomenal — the staff at the sleep lab were super helpful, and clearly cared about the testing, treatment and outcomes for me. They did everything they could to make it as easy as possible."

— Steve Iles, Sleep Center Patient
While Hillsdale's Sleep Center does offer at-home testing, Johnson says that some insurance providers don't cover the cost, so most of the testing they do happens right in the lab itself. The test, which takes six hours, can diagnose other issues in addition to sleep apnea such as restless leg syndrome or narcolepsy.
"It's definitely an overnight experience because it takes your body that long to go through the sleep cycle," explained Johnson, who says she's worked with patients ranging in age from 4 to 82. "We want you in a nice deep sleep; sometimes I don't wake them up after the test if I don't have to because they're sleeping so well. But if you arrive at 9 p.m., you can be done by 5:30 a.m."
This type of convenience is one of the key reasons that the Sleep Center has been so successful: Hillsdale's Sleep Center has so far conducted more than 2,100 sleep studies for patients during Dr. Patten's five-year tenure at the clinic.
"Patients come here because of the experience of our board-accredited sleep specialists, who manage patients from diagnosis, through testing and follow-up in the leep clinic," Dr. Patten said. "It's a convenience for a small town — one that most people don't have."
Aside from convenience, Johnson, like Iles, also cites the personal and caring nature of the Hillsdale Hospital community as a major reason for the Sleep Lab's success.
"It's important that people understand that if they are treated for significant obstructive sleep apnea, their blood pressure is easier to control, it reduces their risk for stroke and heart attack."

— Dr. Gregg Patten, Pulmonologist & Hillsdale Hospital Sleep Center Medical Director
"I've worked in three different places, and Hillsdale is so much more in tune to taking care of the patient — the doctors are much more willing to work with the staff and the patients, so it's a win-win," Johnson said. "I love my job. I like to help people: A woman told me, 'You saved my marriage.'"
For more information about Hillsdale Hospital's Sleep Center — the only accredited sleep lab in Hillsdale County — call (517) 580-5055.
What is Obstructive Sleep Apnea?
When the muscles at the back of the throat relax too much to allow for normal breathing, patients are diagnosed with obstructive sleep apnea. Although found in all age groups, obstructive sleep apnea is more frequently diagnosed among older and overweight patients.
Common Symptoms:
Snoring
Daytime sleepiness
What can help?
Weight loss
Sleeping on one's side
Decreasing alcohol consumption
Continuous positive airway pressure (CPAP) therapy
What to Expect at Your Sleep Study
Sleep tech Carol Johnson's biggest piece of advice: "Be comfortable: Bring your pajamas, a bottle of water, whatever things you're used to. We want to see you at your normal, so we can fix you at your normal."
In your room, you'll find a queen-size bed, restroom and TV
When you arrive, you'll fill out a minimal amount of paperwork
When you are being hooked up to the testing machine, expect the process to take about 20 minutes