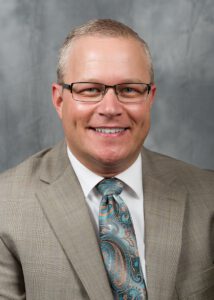 Hospital Names Next CEO as Anderson Announces Retirement
HILLSDALE, Mich.—Hillsdale Hospital named JJ Hodshire, vice president and chief operating officer, its next CEO today, as 12-year veteran Duke Anderson announced his retirement. Anderson will complete his tenure as Hillsdale Hospital CEO on May 31, 2020. Hodshire will take the helm June 1.
"Duke Anderson has been a public servant his entire 40-year career," Greg Bailey, chairman of the board, said. "In June 2007, the board of trustees entrusted him with the healthcare of our community. It is without reservation that we now say, 'Well done, good and faithful servant.'"
During Anderson's tenure at Hillsdale Hospital, he was named to Becker's Hospital Review's 50 Rural Hospital CEOs to Know list five times. He is the only CEO in the hospital's history to achieve the top national designation for his focused approach to improving the quality of healthcare in Hillsdale County, creating a patient-centered environment, engaging employees and building a culture of high reliability. He has also served as a national speaker on many topics, including challenges and opportunities facing rural hospitals, sharing the stage with healthcare leaders from across the United States.
"I am very satisfied with the great progress we have made at Hillsdale Hospital over the last twelve years," Anderson said. "I know that the hospital will be in excellent hands with Mr. Hodshire at the helm."
In light of Anderson's demonstrated success, the hospital board spent several months determining the best course of action in choosing his successor—hiring from within or conducting an outside search.
"We were torn between the insider who knows this hospital inside and out, and the outside person who knows the hospital industry," Bailey said. "After careful deliberation and vetting of JJ's credentials and experience, we realized that we had both sitting right under our nose."
In 2010, Hodshire was appointed director of organizational development for Hillsdale Hospital, responsible for human resources, staff education and training, safety, security, and governmental affairs. In 2018, he was promoted to vice president and in 2019, was named chief operating officer. He has written more than $6 million dollars in local, state and federal grants, providing for a variety of staff and equipment needs within Hillsdale County and Hillsdale Hospital.
Hodshire has served as an adjunct instructor for Jackson Community College since 2002. He currently serves on the boards of Southeast Michigan Workforce Development and the Hillsdale County Community Foundation. Hodshire has been recognized for his work multiple times by both the United States and Michigan Houses of Representatives and was most recently honored with the Marvin E. Howell Community Service Award by the Hillsdale County Economic Development Partnership.
"We have a community hospital unlike any other," Hodshire said. "We have an incredible team of caregivers and leaders, providing high-quality care our community trusts. I now have the privilege of leading this team as we build on the foundation created under Mr. Anderson's leadership, and work to become a world-class destination hospital, providing the best healthcare experience in rural America."