Invites Public Support to Make Hillsdale Hospital the First Choice for Care
HILLSDALE, Mich.—Hillsdale Hospital has launched a new communications and community engagement campaign, Hillsdale Strong. Hillsdale First., to promote the high-quality care offered locally through the hospital, its
outpatient services and its owned and operated outpatient clinics. It is a continuation of the #HillsdaleStrong campaign launched at the onset of the COVID-19 pandemic.
"Hillsdale Strong represents everything we've been through as a community," Chief Communications Officer Rachel Lott said. "Our team stood tall during the most challenging times our healthcare industry had ever seen, managing a global pandemic and caring for the sickest among us."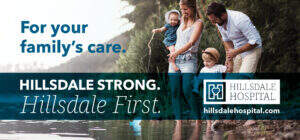 As a nonprofit organization, Hillsdale Hospital demonstrates its commitment to the community in anumber of ways, including community benefit donations, purchasing fresh produce and meat for the local food pantries, and absorbing the cost of charity care provided to patients who can't afford to pay.
"Our community stood behind us throughout the challenges of the past three years, so Hillsdale Strong also represents the way people banded together to support us, especially during those early days when the county was dotted with blue yard signs that read, 'We support our healthcare heroes,'" Lott said. "I still see them in yards today."
Despite the difficulties of the pandemic, Hillsdale Hospital adopted an aggressive growth strategy in 2020, prioritizing the long-term needs of its patients by bringing more healthcare services to Hillsdale. These new ventures, programs and partnerships also support the hospital's long-term financial viability and relevance to its community.
"Hillsdale First represents our mission to be a guardian of exceptional health services for our community," Lott said. "We are putting the Hillsdale community first by exploring every avenue to bring in specialty care and services that patients need."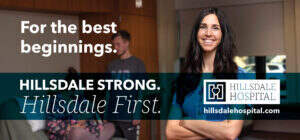 Since 2020, Hillsdale Hospital has launched the Center for Advanced Wound Care & Hyperbaric Medicine, the Center for Infusion Care, the Women's Pelvic Floor Center, AngioScreen cardiovascular screening, occupational medicine and more. The hospital also expanded the Center for Pain Management and its pulmonology practice, adding inpatient care and PET-CT scanning.
"During a time when hospitals all around us are shutting down services and closing units, we have continued to launch and expand our services," President & CEO Jeremiah "JJ" Hodshire said. "We have also built relationships with partners who are now providing specialty care to patients in our community, including surgical care right here in our facility. We now have neurosurgery with Dr. Timothy Spencer, otolaryngology (ear, nose and throat) with Dr. Samantha Mucha and most recently, vascular surgery with Dr. Syed Alam."
Today's healthcare environment is even tougher from a financial perspective than the early days of COVID-19. Hospitals across the nation are experiencing massive financial losses, some in the tens of millions. Hillsdale Hospital, while better financially positioned than many rural hospitals its size, is not immune to the difficulties presented by today's climate, with 2022 marking the toughest year for hospitals in America since the pandemic began.
According to a recent report from the American Hospital Association, hospitals' contract labor costs have more than doubled, increasing 258% in 2022 compared to pre-pandemic levels. Health care staffing agencies took advantage of the increased demand and in 2022 were charging record-high rates 56.8% greater than pre-pandemic rates. Supply expenses are up 18.5% percent per patient over the past four years, outpacing inflation by 30%. Meanwhile, pharmaceutical companies have increased prices for more than 1200 drugs and are booking record revenues and profits, resulting in hospitals' per-patient drug expenses increasing 19.7% from 2019 to 2022. The compounding effect of these challenges hits rural hospitals hardest, where financial margins are slim to begin with.
"The industry is facing a daunting future right now, so it's not just rural hospitals anymore. The big systems and giant hospitals are facing uncertainty, and we expect to see them attempt to enter the market in rural communities, touting better quality and shiny new facilities," Hodshire said. "We'll see those systems work to siphon patients from local hospitals in order to cover their own losses, while charging more for the care those patients were already receiving closer to home, now with the increased burden of travel, all without any significant increase in the quality of care. If those efforts are successful, we could see the rate of rural hospital closures drastically increase."
Current estimates from the Center for Healthcare Quality and Payment Reform put more than 600 rural hospitals at risk of closure, with more than 200 of those at immediate risk.
"Now is the time for rural communities to stand behind their local hospitals, and that's what Hillsdale First is all about," Lott said. "We are inviting our community to choose Hillsdale First when it comes to their medical care."
Despite the seemingly impossible circumstances of the past three years, Hillsdale Hospital has continually been recognized for excellence—as a Top 100 Rural Hospital and Best Nursing Home in America in 2022 and a Top Workplace USA in 2023, among other accolades.
"Here in Hillsdale, we know who we are, we know what we stand for and we stick together," Hodshire said. "We don't need outsiders coming into our community and telling us we can't have what we already have, which is high-quality care at an affordable cost right here in our own backyard. We know this community has our back and we have theirs. Together, we are Hillsdale Strong and we will continue our rich history of serving our community for decades to come when patients choose Hillsdale First."
The Hillsdale Strong. Hillsdale First. Campaign includes promotion through traditional and digital media, a guide for how to choose Hillsdale First for care, and other opportunities for the community to engage with the hospital. For more information, visit hillsdalehospital.com/first.