Project in Honor of Duke Anderson Funded by Hospital Auxiliary & Sale of Engravable Bricks
HILLSDALE, Mich.—In honor of CEO Duke Anderson, who retires June 1, Hillsdale Hospital will construct The Anderson Pavilion on its grounds to provide space for hospital events and private use by its employees.
"Our president and CEO, Duke Anderson, will be retiring after serving this institution for 26 years—13 years in his current position, and 13 years prior to that as a member of the board of directors, including several years as board chairman," Greg Bailey, chairman of the Hillsdale Hospital Board of Directors, said. "A record of commitment and service of this magnitude should not be overlooked.  But this presented a conundrum.  How does one beat the drum for a man of such humble nature who has never been one to beat his own drum?"
The pavilion was conceived as a fitting tribute to honor Anderson's legacy and will be fully funded by the Hillsdale Hospital Auxiliary with a $60,000 donation. To further honor Anderson and support the project, the Auxiliary is offering custom engravable bricks to line the paved pathway to the pavilion.
The Anderson Pavilion will be located across the street from the hospital employee parking lot on E. Lynwood Boulevard and Walnut Street adjacent to the hospital grounds. Construction is scheduled to begin mid-March, supervised by Scott Brown, director of facilities, and built by Foulke Construction.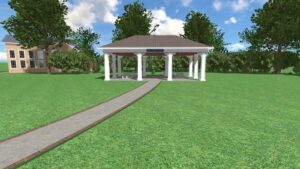 "Thanks to the generosity of our Auxiliary, we are able to fund the project complete with the necessary outdoor fixtures to make this a very nice getaway," JJ Hodshire, VP and chief operating officer, said. "Duke's nearly 40 years of leadership and administration, not just at Hillsdale Hospital, but his entire healthcare career, will be celebrated during the dedication of the Anderson Pavilion, which will kick off his retirement celebration in May."
Once completed, the pavilion will be used for staff meetings, special events and picnics. Employees of Hillsdale Hospital will be able to reserve and use the space for family events, free of charge.  The pavilion will have picnic tables, benches, grills, water and electrical hook-ups.  The spacious yard also provides room for sports and activities.
Bricks can be reserved for $100 each at the Hillsdale Hospital Gift Shop or by contacting Kathie Ward, gift shop manager and liaison to the Auxiliary, at (517) 437-1713 or auxiliary@hillsdalehospital.com. Brick order forms are also available at www.hillsdalehospital.com/pavilion.