Hospital Recognized From Thousands Nationwide Solely on Employee Feedback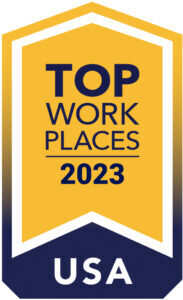 HILLSDALE, Mich.—Hillsdale Hospital has announced it has earned the 2023 Top Workplaces USA award, issued by Energage. The Top Workplaces program has a 15-year history of surveying more than 20 million employees and recognizing the top organizations across 60 markets for regional Top Workplaces awards. The hospital was one of less than 330 companies in its size category named to the list.
"We were honored and thrilled when we were named a Top Workplace in Michigan by the Detroit Free Press late last year," President & CEO Jeremiah J. Hodshire said. "To now be named one of the best places to work in the United States of America is truly humbling. Our team has fought through some of the most challenging times our industry has ever seen, but they continue to come out on top."
Top Workplaces USA celebrates organizations with 150 or more employees that have built great cultures. Over 42,000 organizations were invited to participate in the Top Workplaces USA survey. Winners of the Top Workplaces USA list are chosen based solely on employee feedback gathered through an employee engagement survey, issued by Energage.
Results are calculated by comparing the survey's research-based statements, including 15 Culture Drivers that are proven to predict high performance against industry benchmarks.
"Earning a Top Workplaces award is a badge of honor for companies, especially because it comes authentically from their employees," said Eric Rubino, Energage CEO. "That's something to be proud of. In today's market, leaders must ensure they're allowing employees to have a voice and be heard. That's paramount. Top Workplaces do this, and it pays dividends."
Hillsdale Hospital has received multiple awards and recognitions in the past year as it works to realize its organizational vision which reads: "Through strong local governance, we will lead the nation in defining and advancing the role of rural health providers." In February 2022, the hospital was named a Top 100 Rural Hospital by the Chartis Center for Rural Health, placing it among the top six percent of rural hospitals nationwide. September brought the hospital's first Procedures & Conditions rating achievement from US News & World Report, which named Hillsdale Hospital High Performing for Hip Fractures.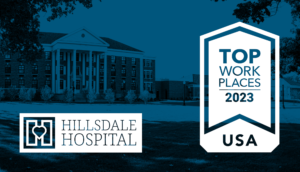 In November, Hillsdale Hospital received three additional prestigious honors. Its skilled nursing facility was named a Best Nursing Home in America by US News & World Report. The hospital as a whole was named a Top Workplace in Michigan by the Detroit Free Press. As measured by its readmission and mortality rates, Hillsdale Hospital also received a Performance Leadership Award for Excellence in Outcomes from the Chartis Center for Rural Health.
For more information on working at Hillsdale Hospital or to view a list of open positions, visit www.hillsdalehospital.com/careers. To view the hospital's Top Workplaces profile, visit www.topworkplaces.com/company/hillsdale-hospital/.
###
About Hillsdale Hospital
Founded in 1915, Hillsdale Hospital is a community-based hospital providing high-quality healthcare in south central Lower Michigan. It is a 2022 Top 100 Rural & Community Hospital (The Chartis Center for Rural Health) and 2022 Top Workplace in Michigan (Detroit Free Press). The hospital offers comprehensive care, including acute inpatient services, advanced radiology and imaging services, full-service laboratory, surgery, a state-of-the-art birthing center, emergency care, inpatient psychiatric care and more. The healthcare organization also delivers specialty care and owns and operates multiple outpatient clinics. Specialty care provided includes pulmonology and sleep disorders, orthopedics in affiliation with University of Toledo Medical Center, home care, a pain management clinic, short-stay rehab, vascular care and more. Three primary care clinics, Hillsdale Health & Wellness, Litchfield Health Clinic and Reading Health Clinic provide walk-in care or same-day appointments. For more information, visit www.hillsdalehospital.com.
About Energage
Making the world a better place to work together.TM
Energage is a purpose-driven company that helps organizations turn employee feedback into useful business intelligence and credible employer recognition through Top Workplaces. Built on 16 years of culture research and the results from 27 million employees surveyed across more than 70,000 organizations, Energage delivers the most accurate competitive benchmark available. With access to a unique combination of patented analytic tools and expert guidance, Energage customers lead the competition with an engaged workforce and an opportunity to gain recognition for their people-first approach to culture. For more information or to nominate your organization, visit energage.com or topworkplaces.com.