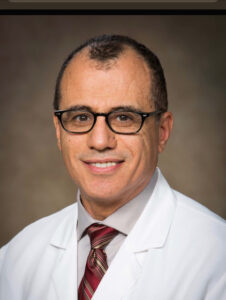 Hillsdale Hospital Brings Vascular Services to the Community
HILLSDALE, Mich.—Hillsdale Hospital announced Friday that Dr. Abedel Abushmaies will begin providing vascular care and surgery this month. Patients will now have local access to these services, saving the time, expense and health challenges of traveling outside the area for care.
"There is a growing need for vascular care in the community, specifically minimally-invasive procedures," Abushmaies said. "Many vascular conditions can be treated without an open surgical approach. Now, we can provide that care locally."
Through this partnership, Abushmaies will work with the hospital's team to provide inpatient evaluations and perform needed procedures. He will also do consultations with emergency room patients, providing immediate vascular care. When needed, many surgical procedures can be performed just down the hall in the hospital's operating room.
"We are excited to work with Dr. Abushmaies to provide much-needed vascular services for our community," JJ Hodshire, chief operating officer, said. "Patients can face significant challenges to travel or be transported outside the county for care. This partnership is just the latest in new specialty services we continue bringing to Hillsdale, making high-quality care more and more accessible."
Abushmaies is certified by the American Board of Vascular Surgery and has more than 20 years of experience performing vascular procedures. He is also a member of the Society of Vascular Surgery.
For more information on vascular care at Hillsdale Hospital, visit www.hillsdalehospital.com or call (517) 437-5140.
###
About Hillsdale Hospital
Founded in 1915, Hillsdale Hospital is a community-based hospital providing high-quality healthcare in south central Lower Michigan. The hospital offers comprehensive care, including acute inpatient services, advanced radiology and imaging services, full-service laboratory, a state-of-the-art birthing center, emergency care, inpatient psychiatric care, general surgery and more. The hospital also delivers specialty care, featuring pulmonology and sleep disorders, orthopedics in affiliation with University of Toledo Medical Center, home care, a pain management clinic, short-stay rehab and more. For more information, visit www.hillsdalehospital.com.