Is Sole Organization Recognized from Hospitals & Health Systems Sector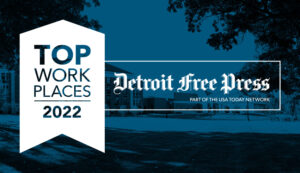 HILLSDALE, Mich.—Hillsdale Hospital has been awarded a Top Workplaces 2022 honor by The Detroit Free Press Top Workplaces and is the only organization in the hospitals and health systems sector to be recognized. The list is based solely on employee feedback gathered through a third-party survey administered by employee engagement technology partner Energage, LLC. The hospital was one of just 31 companies awarded in the large employer category.
"We are truly honored to be named a Top Workplace in Michigan, and it's all due to our team members who work together every day to create an environment where people want to work," President & CEO Jeremiah J. Hodshire said. "Now more than ever, our industry is a challenging place to be. It is truly impressive to see that our team has persevered to overcome those challenges, while simultaneously fostering a culture that allows us to be one of the best places to work in the state."
The anonymous survey uniquely measures 15 culture drivers that are critical to the success of any organization: including alignment, execution, and connection, just to name a few.
"Earning a Top Workplaces award is a badge of honor for companies, especially because it comes authentically from their employees," said Eric Rubino, Energage CEO. "That's something to be proud of. In today's market, leaders must ensure they're allowing employees to have a voice and be heard. That's paramount. Top Workplaces do this, and it pays dividends."
Hillsdale Hospital has received a number of accolades in the past year. The Chartis Center for Rural Health recognized it in February as a Top 100 Rural Hospital in America. This month, the hospital also received a Performance Leadership Award for Excellence in Outcomes by Chartis. In July, U.S. News & World Report rated Hillsdale Hospital High Performing for Hip Fractures and last week named it's skilled nursing facility a Best Nursing Home for Short-Term Rehabilitation.
For more information on working at Hillsdale Hospital or to view a list of open positions, visit www.hillsdalehospital.com/careers. To view the hospital's Top Workplaces profile, visit www.topworkplaces.com/company/hillsdale-hospital/.