Moore Insurance Services partners with nonprofit hospital to raise needed funds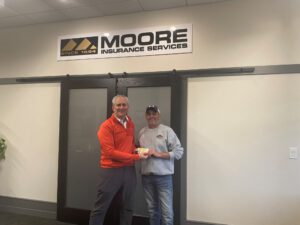 HILLSDALE, Mich.—Braman Roofing placed the winning bid for tickets to the upcoming Michigan vs. Ohio State game in Hillsdale Hospital's
online auction. The tickets were provided by Moore Insurance Services for the purpose of raising needed funds for hospital equipment.
"We're happy to support our local hospital. Thank you, Moore Insurance, for the University of Michigan vs. Ohio State tickets," said a representative from Braman Roofing.
The game is on November 25, in Ann Arbor, Mich., and the auction tickets are for two seats on the goal line in section six, row nine. The starting bid was $1,000, and Braman Roofing's ending bid was $1,800. All proceeds will contribute to the fundraiser to improve patient care and safety at Hillsdale Hospital.
"Moore Insurance Services is always looking to support our local community and we are thrilled that Braman Roofing will be at Michigan Stadium to see the University of Michigan battle Ohio State this year," Owner Richard Moore said.
Hillsdale Hospital launched the auction on October 19, 2023, to offer the community an opportunity to bid for the donated game tickets and to increase local engagement.
"We're incredibly grateful for our community partners in Hillsdale County," said Jeremiah J. Hodshire, president and chief executive officer at Hillsdale Hospital. "The donation of the tickets by Moore Insurance Services and the generosity of Braman Roofing's winning bid both speak to our community's commitment to local patient care. We encourage Hillsdale to place our hospital's high-quality services first so that we can remain Hillsdale Strong."
To learn more about Hillsdale Hospital, visit hillsdalehospital.com.